For Felix Klassen, the year 2022 was not only the most successful of his career so far from a sporting point of view, it was also a very emotional one for the 29-year-old thanks to his appointment as a national player and his victory at the World Games. With the World Championships in Mannheim, he already has the next highlight in sight. In an interview, the TV Käfertal fistballer talks about his "outstanding year" and his big dream of being a player at the home World Championships in his native city.
Mr. Klassen, in less than seven months, Germany will play for the world championship title in fistball at the home World Cup in Mannheim. Are you starting to get excited in anticipation?
Klassen: The anticipation is already enormous. We fistballers have been looking forward to this tournament since it was awarded. It will be an amazing event for our sport with the finals in front of hopefully 12,000 spectators on natural grass in the SAP Arena – there has never been anything like it in fistball before.
You won the title at the World Games this year with the German national team. Now you have the chance to be nominated again and thus participate in the home World Championships. Is there anything greater for an athlete?
Klassen: For me as a player, it would be the first World Championship ever – and in Mannheim to boot, so virtually at home for me. That would be a dream. In Birmingham/Alabama I already got an impression of how fistball is played at world level. That was a unique experience. A victory at the World Games in itself is actually the greatest thing you can achieve as a fistballer. But we all agree in the national team that a World Championship in our own country is even more important. Especially since it will take place in Mannheim, the city where I was born and where I have spent most of my life.
You can look back on an incredibly successful year. It must seem like something out of a beautiful movie. First the appointment to the German national squad and then within a few weeks you celebrate the World Games victory and the German vice championship with TV Käfertal.
Klassen (laughs): There's something to that. I had unbelievable moments of happiness. But also emotional roller coaster rides. To be precise, I was allowed to play for Germany as a rookie captain with a very young team at the Nations Cup in 2021, which earned me a nomination for the World Games. To be part of that team and then even win the title was incredible. After a not so successful indoor season without a medal, that was the crowning achievement. As a young athlete, you first have to come to terms with that. I admit I fell into a bit of a hole afterwards.
How did you process that?
Klassen: We came back from Alabama, were full of euphoria and had celebrated a great success. And then, just a few days later, the German Championships were on the agenda again. The feeling of not being able to fulfill the pent-up private and professional expectations satisfactorily brought me into a little emotional chaos. I was also a bit worried that I wouldn't be able to do justice to the team with my personal performance, especially at the German Championships. But fortunately that wasn't the case. I got out of the slump pretty quickly, and we finished in a super second place.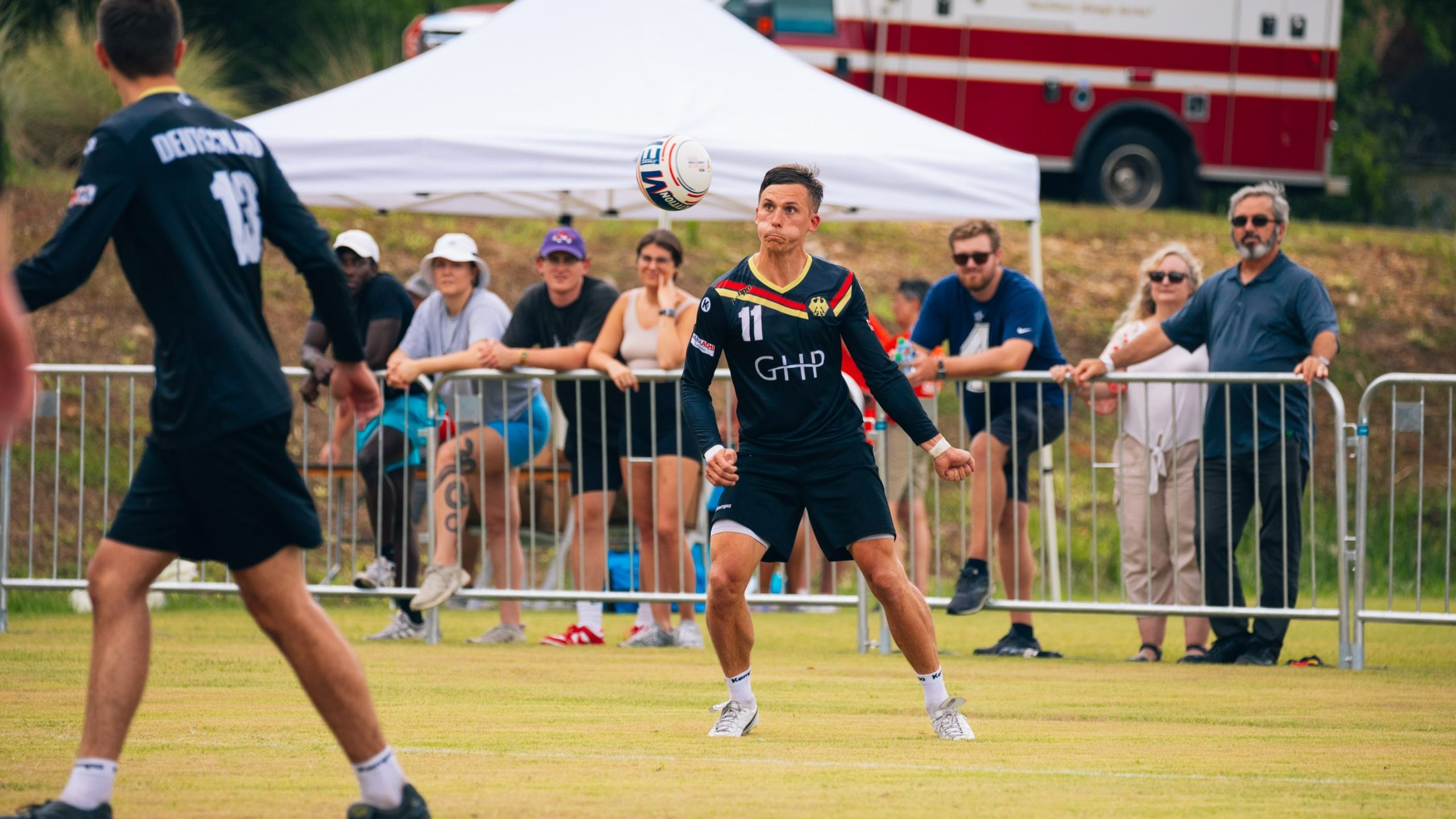 The World Championships should now be motivation enough.
Klassen: Definitely. When things picked up speed for me in sporting terms, I also withdrew from the organizing team. I want to concentrate fully on fistball in addition to my private and professional life. I am succeeding well in that. At the beginning of the year, I also started a new job as a business analyst and I am super grateful that I can combine competitive sports and my job so well. My employer makes it possible for me to combine sport and career without having to cut back.
What goes through your mind when you currently drive past the SAP Arena?
Klassen: I'm there from time to time to watch the Adler Mannheim or the Rhein-Neckar Löwen. I'm a sports fan and like the arena. I was also at the opening back then. The dimension of this arena is enormous. So I never put fistball and the arena together, let alone ever getting the chance to play there. Even in Alabama, we didn't have a crowd of 12,000, so that's hard to imagine, too.
With the start of the indoor season, it felt like the World Cup countdown began. Are you already counting down the weeks?
Klassen: In any case, we're taking big steps towards nomination and the World Championships. The first training course will take place in April, after which the squad will be reduced. The battle for places is on. As an athlete, of course, you're constantly thinking that you want to be there. You already have the logo in your head and you're just looking forward to it.
But first you have to get down to business in the Bundesliga. At the moment, you're in an exciting four-way battle with TV Käfertal and your opponents from TV Vaihingen/Enz, Schweinfurt-Oberndorf and TSV Pfungstadt to qualify for the German Championships. How do you see Käfertal's chances?
Klassen: The four teams are only two points apart. Unfortunately, we have been plagued by injuries and were not always able to play at our best in some games. From a points point of view, we are still on target with only one defeat. Maybe we could have scored more points recently in the top match against Vaihingen/Enz, but looking at the standings, this has been a top season so far. Our goal is to qualify, and we all want to achieve that at all costs.
You belong to the inner circle of the national team. How realistic is your participation in the World Cup?
Klassen: There are no commitments. Everyone is fighting for their place in the team. The chance is realistic, currently four of us are fighting for the place on the right back position. In the club, I play as a center back, which can be an advantage. I can play with the look of a center back on the right. We'll see.
It would be a home game for you in two senses. Your club, TV Käfertal, has been entrusted with hosting the World Cup. The organization is in full swing. What are you getting involved in?
Klassen: Through the club, of course, I get to see a lot. It's unbelievable how many people are involved and it's nice to see how structured the club's work is for this World Cup. We are currently looking for volunteers, and we are also planning how the match days will be run. My mother, for example, will probably be baking cakes. It feels a bit like a Bundesliga home game day, except that it's all a few sizes bigger. I'm delighted about that, and I very much hope that we can maintain this family character that characterizes our sport at this World Cup. Then it will be an outstanding sporting event!
For information: After 1972, 1982 and 2007, a World Championship in field fistball will be held in Germany for the fourth time from July 22 to 29, 2023. The venue will be Mannheim. The organizing club is TV Käfertal. The preliminary round matches will be played in the Rhein-Neckar Stadium, where the soccer league team VfR Mannheim will play its matches. For the final round, the athletes will move to the jewel of the region – the SAP Arena. Mannheim will be the first venue to host a World Cup final round on natural grass under one roof.
Interview: Steffi Sandmeier