It is accomplished: The host team Germany defeats Austria in an exciting final with a score of 4:0 and is crowned world champion. The bronze medal goes to Brazil, while Switzerland finishes the World Cup in an unfortunate fourth place. Chile achieves its best result in a World Cup for a South American country with a historic victory against Argentina.
Germany wins the home World Championship at the SAP Arena.
Germany – Austria 4:0 (11:7, 11:3, 15:14, 11:7)
It is accomplished. The new and reigning world champion is Germany. Patrick Thomas, Fabian Sagstetter, and the team can defeat Austria in four sets and claim the fistball throne, just like in 2019, 2015, and 2011. The fans at the SAP Arena witness an exciting match, which, while the result appears clear, sees Austria compete well in three sets, with the third set even going into extra points. In the decisive moments, Germany proves dominant and clinches the crucial, long rallies. When Patrick Thomas converts the match point, all barriers break, and the entire SAP Arena celebrates the world champion Germany.
Olaf Neuenfeld (Head Coach of Germany): "I was more tense yesterday than today. Towards the end of the third set, when the score was 15:14, it was on a knife's edge. If that set had gone to Austria, the whole game could have turned around. However, we kept our nerves, even though Karl Müllehner played outstandingly and made hardly any mistakes. After that, I had a good feeling. The World Championship title in Germany was still missing for me. This is the icing on the cake. But I predicted that I would stick around for another four years afterward. We have a very balanced squad, and we even had a larger roster last year, with which we won two tournaments. They elevate each other at this level. It's a fantastic team, and our cohesion sets us apart."
Fabian Sagstetter (Captain and Setter of Germany): "This is overwhelming, everything is so grand. We worked towards this for over a year, and it's even more beautiful that we won this title. We defeated a strong opponent in Austria."
Siegfried Simon (Head Coach of Austria): "Congratulations to the German team. Germany is a very deserving world champion. When you lose 0:4, then the matter is clear. But compliments to my team. They never gave up. We fought. However, every time we tried to score points, Germany had an answer. Germany got stronger as the game progressed and always had a response ready. We have a great team with a fantastic spirit. I hope that most of this team stays together to be prepared for the next tournaments."
Karl Müllehner (Attacker of Austria): "The atmosphere out there was overwhelming. I congratulate Germany because every player on this team is extremely cool. But at some point, I also want to win this trophy. However, defeating Germany in a final, especially on their home turf, is indeed a monumental task."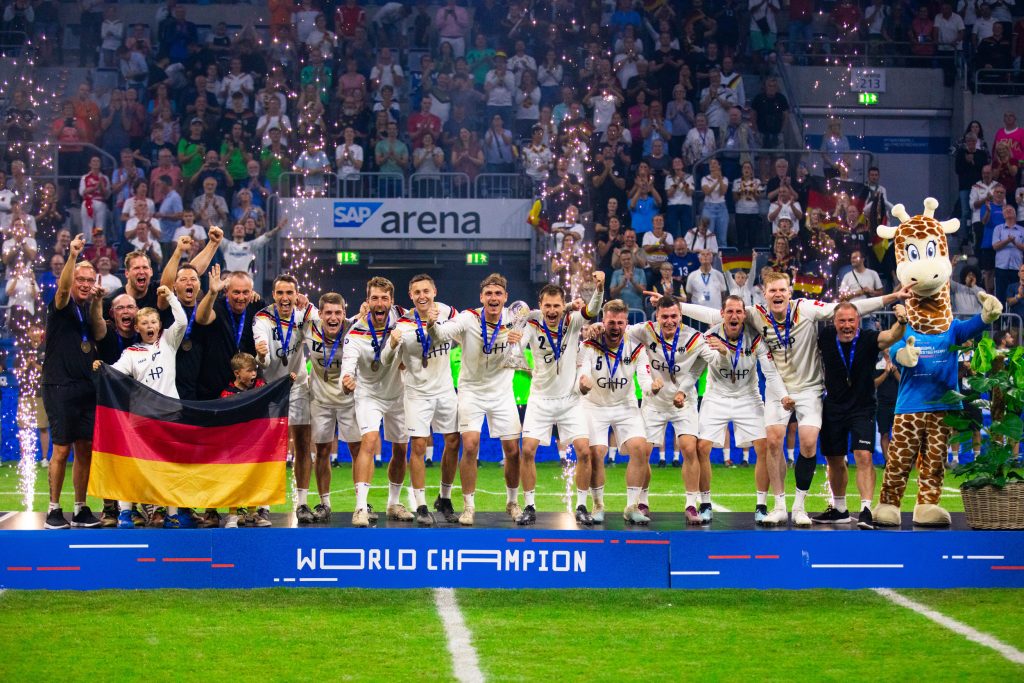 Brazil triumphs in the match for third place
Brazil – Switzerland 4:1 (10:12, 11:9, 14:12, 11:7, 14:12)
The first set in the bronze match of the Fistball World Championship is a hard-fought affair. Switzerland and Brazil engage in a high-class exchange of blows, with the Swiss winning in extended play. Subsequently, Brazil finds answers to the aggressive play of Raphael Schlattinger and Ueli Rebsamen in crucial moments. Bruno Arnold consistently serves with pressure and scores many points for his team. The fifth set becomes dramatic, with Brazil narrowly winning after several lead changes, securing the bronze medal for the South Americans.
Mateus Kuntzler (Brazil's setter): "After the defeat against Germany, I am super happy that we won the match for third place today. The last set was very tight, and two or three rescue actions were crucial. Playing against Switzerland is always tough and emotional. We lost to them at the World Games. We are happy to finish in third place, just like four years ago. The atmosphere in the arena was absolutely insane."
Raphael Schlattinger (Switzerland's attacker): "Brazil was the favorite in this match. We gave it our all and showed some really great fistball. All sets were close, but we lacked that bit of luck. It's incredibly disappointing."
Chile turns an exciting match against Argentina and secures fifth place.
Argentina – Chile 1:3 (11:8, 12:14, 7:11, 9:11)
In the first match of the final day of the Fistball World Championship at the SAP Arena, the spectators are treated to a sporting spectacle. In the duel of the two South American teams, Chile and Argentina, the slightly favored Chileans manage to avenge their defeat from the group stage and secure fifth place. This is the best result Chile has ever achieved at a World Cup.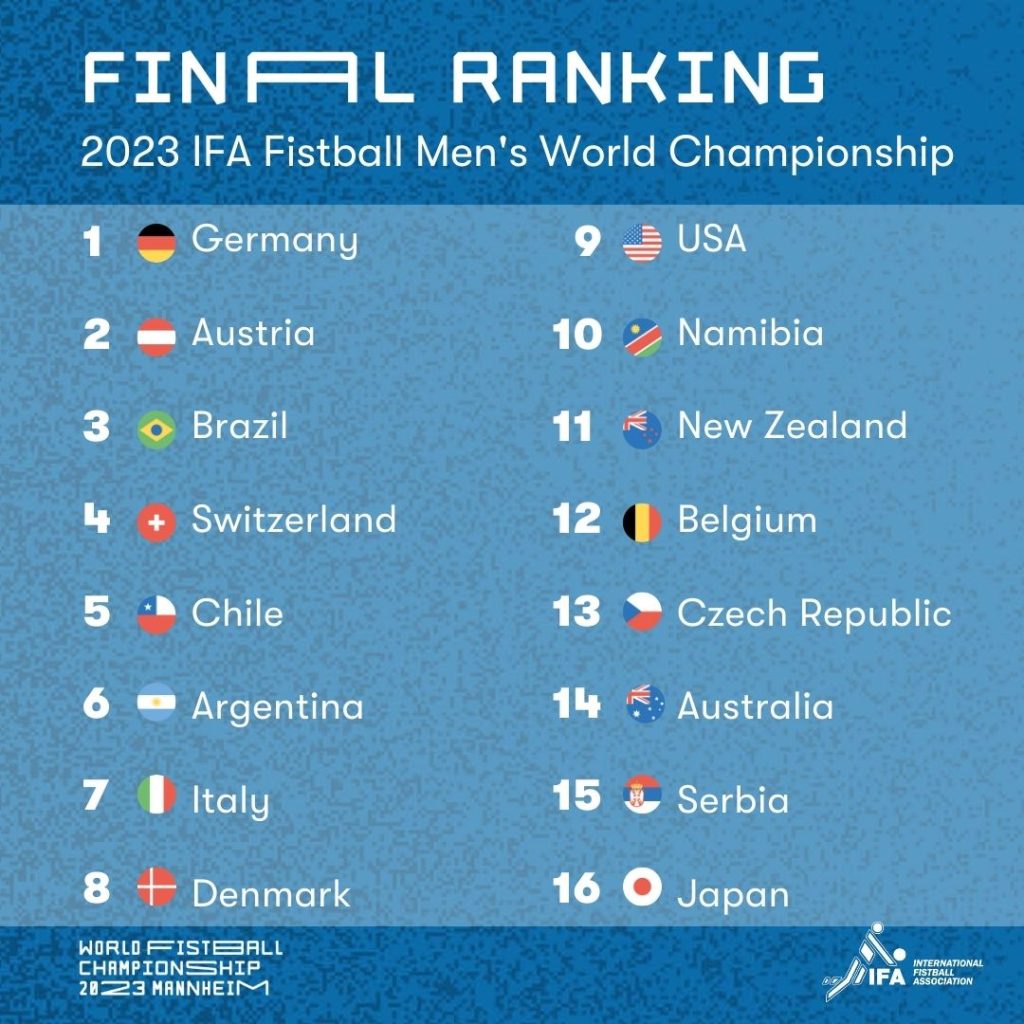 Alle Games are available Re-Live on fistball.tv