After 4th place in 2019: Switzerland wants to get back on the World Cup podium.
For five years it was the duel in all international finals: Whether at the World Games in 2013 and 2017, the European Championships in 2014, 2016 and 2018 or the World Cup in 2015 – Switzerland fought with Germany to win the title, but was defeated every time.
At the home World Cup 2019 in Winterthur, of all places, this series came to an end and the Swiss even went completely without a medal. The team of coach Oliver Lang – who has been on the sidelines since the quarterfinal exit at the 2011 World Cup – came back all the more impressively this summer. After finishing third at the European Championships in Italy, Switzerland impressed at the World Games in the USA by reaching the final – where they narrowly missed out on a surprise against Germany. The team is led by left-hander Raphael Schlattinger, who plays for TSV Calw in the Bundesliga Süd.
| | |
| --- | --- |
| 2019 (Switzerland) | 4th place |
| 2015 (Argentina) | 2nd place |
| 2011 (Austria) | 5th place |
| 2007 (Germany) | 4th place |
In 1995 (Namibia) and 2015 (Argentina), Switzerland was in the World Cup final.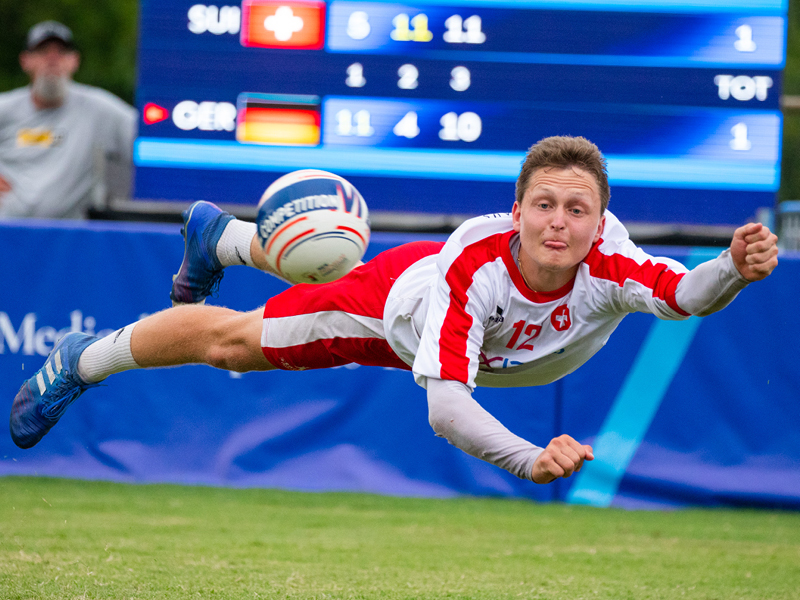 | | | |
| --- | --- | --- |
| 3 | Raphael | Schlattinger |
| 5 | Ueli | Rebsamen |
| 6 | Silvan | Jung |
| 7 | Tim | Egolf |
| 8 | Marcel | Haltiner |
| 9 | Rico | Strassmann |
| 10 | Leon | Heitz |
| 12 | Cédric | Steinbauer |
| 13 | Luca | Flückiger |
| 14 | Malik | Müller |
The players
These players are in the lineup for the 2023 World Cup: