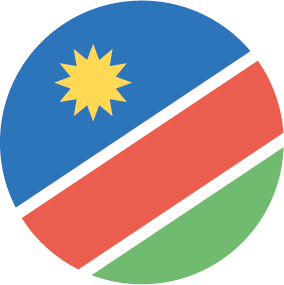 Namibia: Representing Africa at the 2023 World Fistball Championship.
Namibia has always represented the African continent. Initially still known as South West Africa (1972 to 1979), the Namibian team has competed continuously at the world championships since 1990 and has also taken part in the European championships as a guest team on one or two occasions in the past.
For years, the national team was dominated by left-hander Michael Baas, who took eighth place in Austria in 2011, his seventh and last World Championship. However, his successors were also able to build on the good results and achieved a strong eighth place at the 2019 World Cup in Winterthur. By the way: Some of the players are active in German clubs – and can look forward to a little "home game" in Mannheim, so to speak.
| | |
| --- | --- |
| 2019 (Switzerland) | 8th place |
| 2015 (Argentina) | 9th place |
| 2011 (Austria) | 8th place |
| 2007 (Germany) | 8th place |
Namibia placed in the top 10 in all World Cup participations.
| | | |
| --- | --- | --- |
| 1 | Tristan | Minz |
| 2 | Gian | Rudolph |
| 3 | Rico | Kühnle-Kreitz |
| 4 | Thilo | Wilckens |
| 5 | Helmo | Minz |
| 6 | Wilko | Hoffmann |
| 7 | Dieter | Kebbel |
| 8 | Karl-Heinz | Traut |
| 9 | Florian | Mosich |
| 10 | Olaf | Beiter |
The players
These players are in the lineup for the 2023 World Cup: