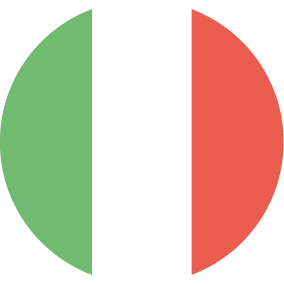 The motherland of fistball will also participate in the MWC 2023.
It was the biggest World Cup success since 1972: 47 years after finishing fifth at the World Championships in Schweinfurt, Italy finished fifth again in Winterthur, underlining that they are one of the world's top nations.
The Squadra Azzura also qualified for the World Games in the USA, where – 25 years after their last participation (1997, Finland) – they confirmed their fifth place. A large part of the team has been playing at the top international level for more than a decade, and at last year's European Championships at home (4th place), the team made increasing use of its own young players, who are now to be developed into regular players in the team of German coach Jörg Ramel around top attacker Armin Runer.
| | |
| --- | --- |
| 2019 (Switzerland) | 5th place |
| 2015 (Argentina) | 7th place |
| 2011 (Austria) | 7th place |
| 2007 (Germany) | 7th place |
In 2022, Italy participated in the World Games again after 25 years of abstinence.
| | | |
| --- | --- | --- |
| 1 | Jakob | Riegler |
| 2 | Matthias | Spornberger |
| 5 | Maximilian | Deutsch |
| 7 | Dennis | Thalmann |
| 8 | Fabian | Obexer |
| 9 | Armin | Runer |
| 10 | Simon | Prudenziati |
| 11 | Florin | Unterkofler |
| 77 | Moritz | Menz |
| 99 | Valentin | Schwarz |
The players
These players are in the lineup for the 2023 World Cup: