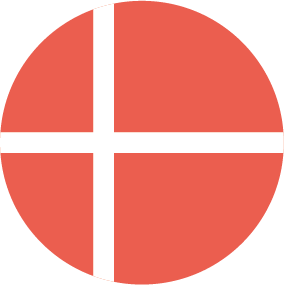 After a ten-year break, Denmark is back on the fistball stage.
Kissed awake from its slumber in 2017, Denmark, under the leadership of the German Youth Association for Northern Schleswig, is increasingly establishing itself as one of the top European nations since its participation in the 2018 European Championships in Adelmannsfelden. From 1990 to 2007, the Danes had already been to six world championships in a row.
Until 2005, the Danish national team was coached by Olaf Neuenfeld, who is now the national coach. He led Denmark to sixth place at the 2003 World Cup in Porto Alegre (Brazil) – and thus to the greatest success in the association's history. Peter Diedrichsen, the current coach of the Danish national team, was also part of the squad at the time. Great importance is attached to youth work. In January 2023, the association will host the European Under-19 Indoor Championships.
| | |
| --- | --- |
| 2019 (Switzerland) | 12th place |
| 2007 (Germany) | 9th place |
| 2003 (Brazil) | 6th place |
| 1999 (Switzerland) | 10th place |
Denmark already participated in six world championships from 1990 to 2007.
| | | |
| --- | --- | --- |
| 1 | Hans Martin | Asmussen |
| 2 | Rune | Hinrichsen |
| 7 | Florian | Wittmann |
| 9 | Josef | Khaled Khalil |
| 10 | Jakob | Jürgensen |
| 11 | Thore | Naujeck |
| 12 | Lasse | Jepsen |
| 17 | Kurt | Asmussen |
| 18 | Lucas | Søndergaard |
The players
These players are in the lineup for the 2023 World Cup: